Concept| Design | Manufacture| Test | Support
Product Engineering Overview
Electrify brings together a team of experts from diverse backgrounds to transform a mere concept into a reality. Our Product Engineering services extend to the complete product life cycle intending to help our partners commercialize new products and technologies rapidly to the market.
Product Engineering Life Cycle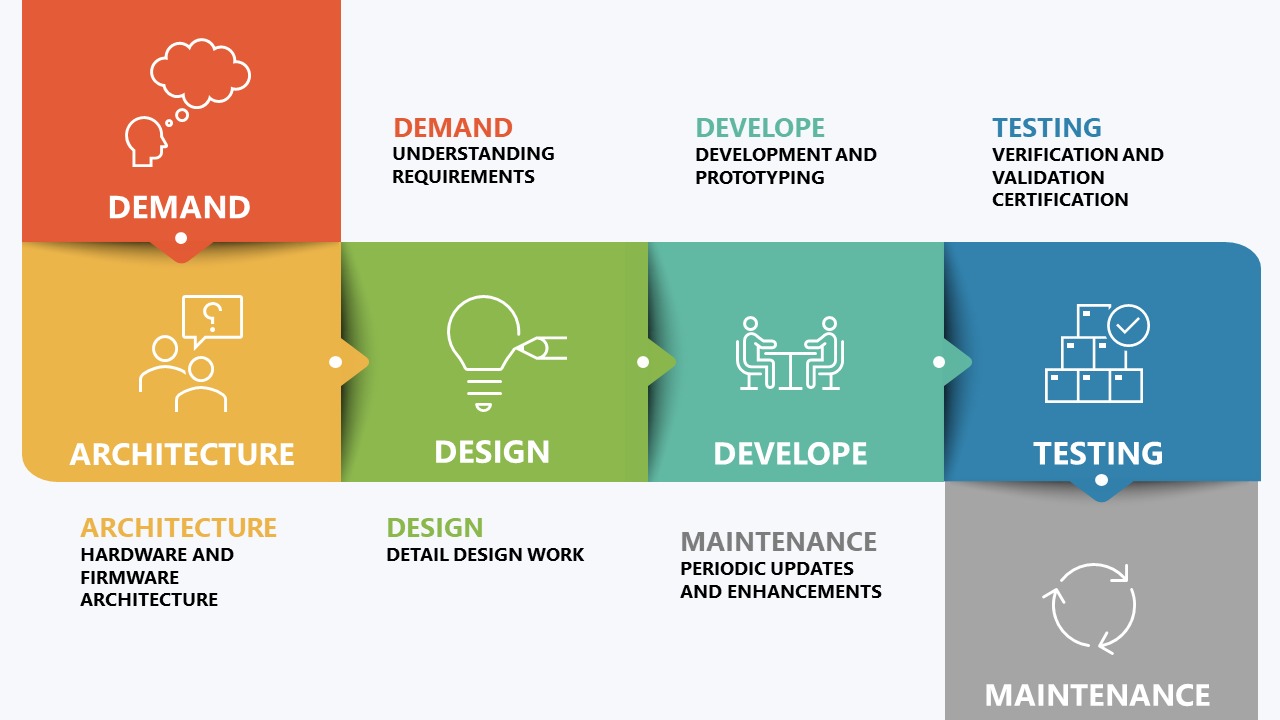 Electrify's Product Engineering Approach
Electrify team has the highest level of integrity and robust commitment towards the customer's success. Our tendency to go above and beyond and our ability to offer different perspectives throughout the project makes us our preferred business.
Following are major steps we breakdown our Product Engineering life cycle in to:
1. Product Demand: We initiate the process with understanding the product and its demand thoroughly by conceiving the requirements and documenting the voice of customers in terms of specifications and performance requirements.
2. Product Architecture: The second phase of the product engineering life cycle creates the base for the product design. This stage establishes the foundation for the hardware and software of the product based on the predefined specifications and requirements.
3. Product Design: Electrify's dynamic design team gets involved in this phase and gives shape to your vision by creating designs that are world-class, manufacturable, and as per the client's requirements. Our team uses a range of software like CAD 2D and 3D overall product modeling and assembly and Altium for detailed component drawings to provide innovative design solutions.
4. Product Development: 4th phase is one of the most crucial phases of the product engineering life cycle as it brings client's vision to a life and deals with the manufacturing of the product. Electrify team moves from Prototyping a product to PEQ builds to mass production with a phased approach to minimize the risk and maximize the learnings in the development phase.
5. Product Testing: Product testing is an integral part of Electrify's services. Every product and its components, software and its updates and firmware and its changes must go through rigorous quality checks to meets global standards and is defect-free.
6. Product maintenance: This is the last phase of the product engineering life cycle. Once a product has been released to the market, Feedback must be collected from users to improve the product performances and Electrify would stand right next to our partners and help them roll out improvements and change, and should they have any issues, troubleshoot them.